Monthly Archives:
April 2021
Memorial Service
by
Linda Campbell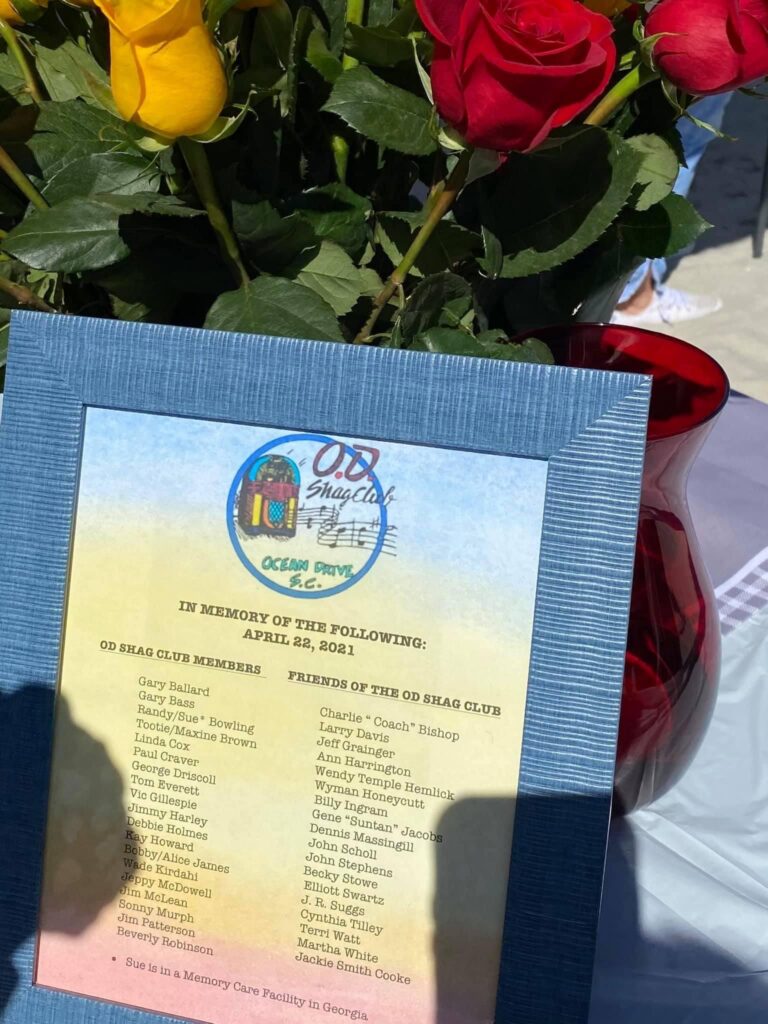 Click Here to see Photos of this Event
On April 22, 2021 at 10:00 am the sun was shining brightly on the beach, but the wind was blowing a bitter cold breeze. However, more than 180 people were gathering with their chairs, blankets, hot drinks on the beach straight out from the horseshoe. They were waiting for a word of comfort, a song of encouragement and a time of reflection as the Memorial service began.
Linda Campbell, Board Member and 2018 Past President welcomed everyone there and then opened the service with a prayer. She then explained that there would be a reading of the names of the members of the OD Shag Club that were lost during 2020 and 2021 and a RED rose would be placed in the vase representing each name that was read. Also, being read would be the names of "Friends" of the OD Shag Club and a YELLOW rose would be placed in the vase to represent them. John Setzer, President of the ODSC read the names of the OD Shag Club and Judy Caulder, Hospitality Chair read the names of the Friends.
Linda Campbell read a poem "THE DASH".
Christina Cooper Black was introduced and sang her version of Carrie Underwood's "How Great Thou Art".
Paulette Miller, Food Committee Co-Chair then invited everyone to help themselves to Ham biscuits, veggie tray and cookies while they continued to fellowship with each other.
Lou Martino, Dance Team Co-Chair, provided the music for the service.
The beautiful vase of flowers and a framed print of the memorial names was taken to Fat Harold's to be on displayed for their Re-opening set for that afternoon.
Photos by Barbara Hopper
OD Shag Club Memorial Service
Dear OD Shag Club Members,
Since the beginning of 2020, it has been extremely challenging for us all and the OD Shag Club lost many of its friends and members.
We are planning to honor them with a Memorial Service on Thursday, April 22nd at 10:00am. This will happen on the beach straight out from the horseshoe (look for the tents). Attached is a list of those we plan to honor, however, if you know of someone who was a member of the club or was local member of our shag community not on the list, please let me know at
lindalou1972@yahoo.com
.
Terry McCoy, Paulette Miller and their amazing Food Committee will be providing a light snack for the occasion and we are blessed to have Christina Cooper Black to participate as a part of the Memorial Service.
We are asking each person who attends to bring their own beach chair and their own beverage to drink.
Please come and join us for a time of reflection, prayer and fellowship as we remember those whom we loved and will be missed by our shag club and shag community.
If questions, please contact either Paulette Miller at 540-400-5785 or Linda Campbell at 803-528-0774.
Paulette Miller
Linda Campbell
OD SHAG CLUB MEMBERS LOST SINCE 1/1/20
Gary Bass Jimmy Harley
Randy Bowling Debbie Holmes
Maxine Brown Alice James
Tootie Brown Bobby James
Linda Cox Wade Kirdahi
Paul Craver Jeppy McDowell
George Driscoll Jim McLean
Tom Everett Sonny Murph
Vic Gillespie Beverly Robinson


FRIENDS OF OD SHAG CLUB LOST SINCE 1/1/20

Billy Ingram John Stephens
John Scholl Becky Stowe