Charities 2018
2018 OD Shag Club
and
OD Shag Club Foundation Charity Donations
North Myrtle Beach Explorer Scouts
The North Myrtle Beach Public Safety Explorer program is chartered through the Learning For Life subsidiary of the Boy Scouts of America and is open to young men and women between the ages of 14 and 20. This program is sponsored by the Law Enforcement division of the Public Safety Department in an effort to reach out to the youth in our community. Public Safety officers work with the Explorer Post providing a structured program that allows our youth to learn first hand about law enforcement practices and the application of state and local laws within our community. Lance Corporal William McLeod accepted the check in the amount of $500,00.
Junior SOS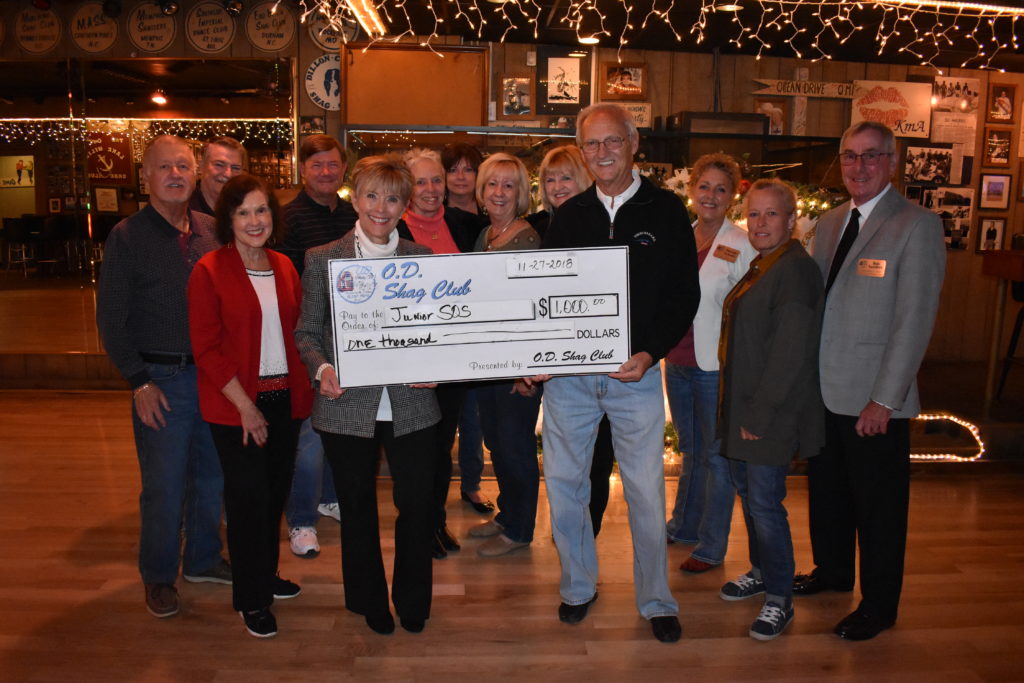 The OD Shag Club presented the Junior SOS a check in the amount of $1000.00. Larry Edwards accepted the Check for the Junior SOS.
Helping Hands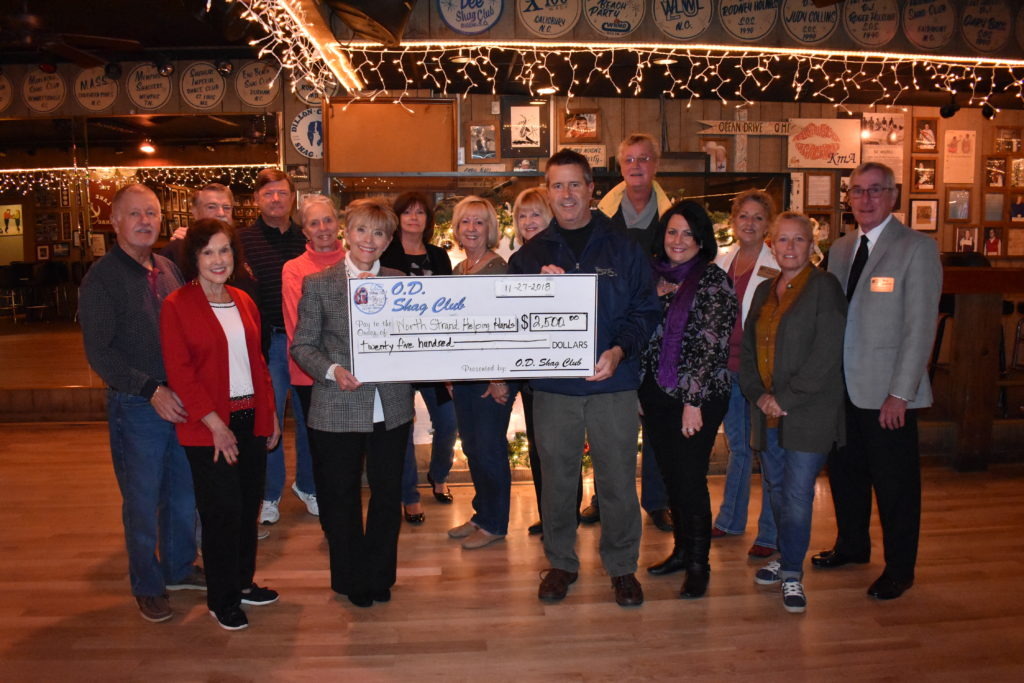 North Strand Helping Hand is an emergency food and clothing bank for those in need in North Myrtle Beach, Little River, Longs, and Atlantic Beach. Helping Hand is a United Way Agency. Kelly Johnson, Director and Jan Hardee, Outreach Co-Ordinator accepted the check in the amount of $2500.00 for North Strand Helping Hand.
Teen Angles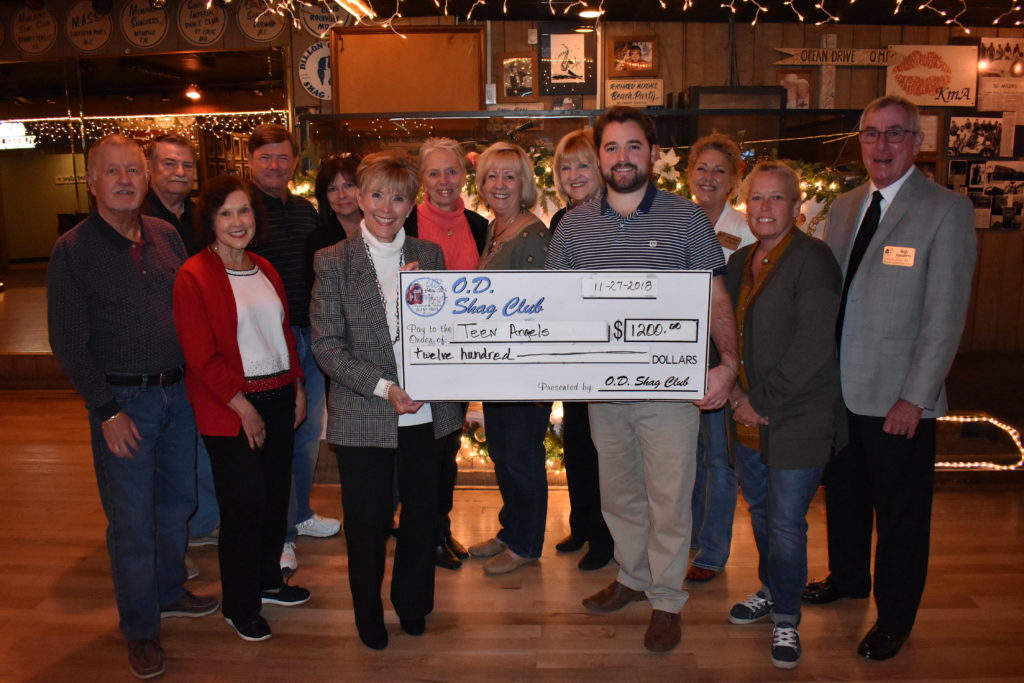 Teen Angel, a program that helps homeless North Myrtle Beach High School students. Teen Angel began as a way to provide homeless NMB students with Christmas gifts and food. The program provides the students with rental and utility assistance, fees for college applications, school supplies and food. OD Shag Club takes pride in having the opportunity to help with our $1200.00 donation to this worthy program. John Hembree accepted the check for Teen Angels.
Ellen Taylor Foundation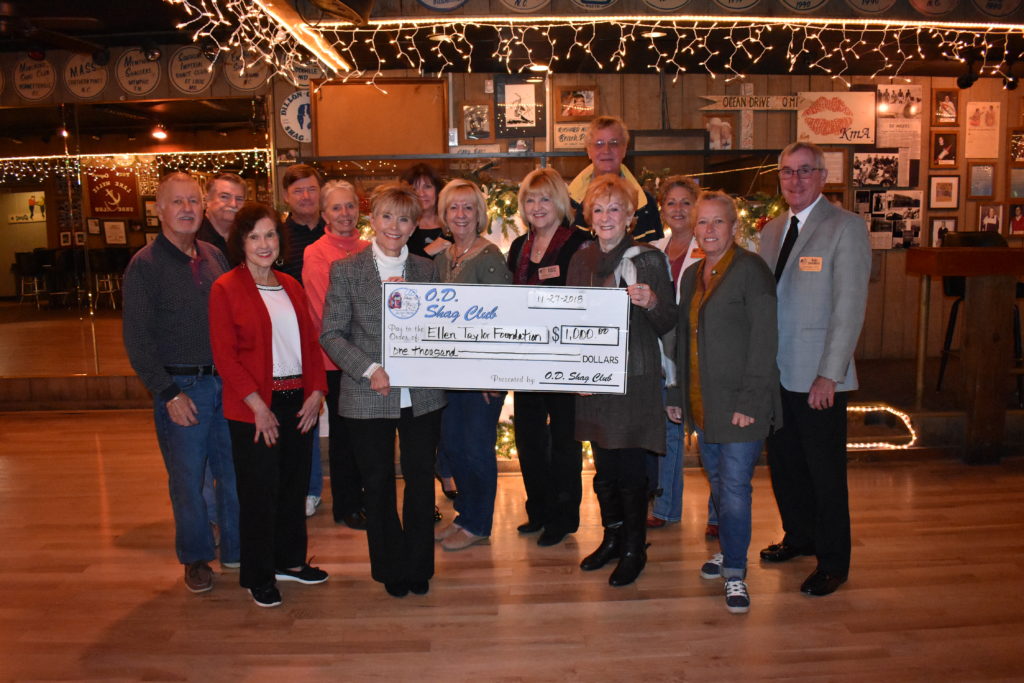 The Ellen Taylor Foundation for Junior Shaggers (ETFJS) was founded in 2007 by Mrs. Ellen Taylor. The purpose of the ETFJS is to remove financial barriers that prevent those under 21 from learning and participating in the shag dance. Examples of this include providing free dance shoes, funding workshops, and providing meal, lodging, and gas vouchers for shag dance events such as Junior SOS at North Myrtle Beach. Our club was was proud to present a $1000.00 donation to Ellen Taylor Foundation. Betty Ladwig accepted the check for The Ellen Taylor Foundation
Toys for Tots

Toys for Tots is a program run by the United States Marine Corps Reserve which distributes toys to children whose parents cannot afford to buy them gifts for Christmas. The program was founded in 1947 by reservist Major Bill Hendricks.