20191003 Navy Reunion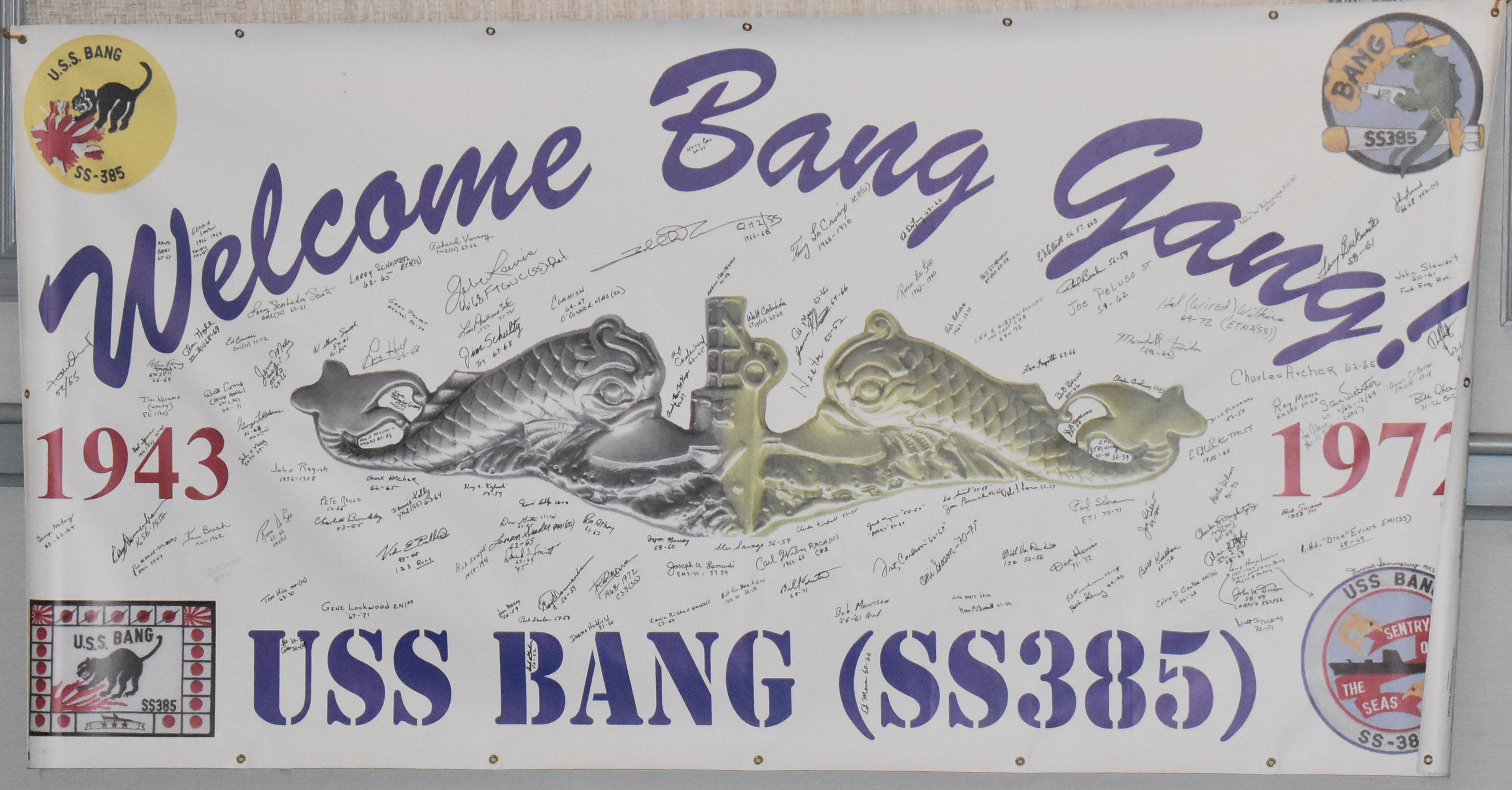 Navy Reunion
by
Lou Martino


Click Here to see Photos of this event
The ODSC Dance Team was invited to the USS Bang Navy Reunion October 3, 2019.
USS Bang (SS-385) was a United States Navy Balao-class submarine, named after the bang, a dark blue or black fish of the Atlantic herring family found in the coastal waters of the United States north of North Carolina. Bang was laid down on 30 April 1943 at Kittery, Maine, by the Portsmouth Naval Shipyard; launched on 30 August 1943, sponsored by Mrs. Robert W. Neblett; and commissioned on 4 December 1943, Lieutenant Commander Antone R. Gallaher in command.
The Dance Team met at the Ocean Reef Resort, 7100 Ocean Blvd, Myrtle Beach,SC at 6:30 PM waiting for the members of the USS Bang to finish their dinner since their meeting ran overtime.
We entered the conference room of over 100 members of the USS Bang and were introduced as the ODSC Dance Team by Jennifer Wilson our POC.
After a brief history of the Shag Club and the Shag Dance by our spokes person Linda Campbell, the team was introduced.
Each ODSC Dance Team couple danced their different styles for a minute and a half to their favorite song.
Since Jennifer hired their own DJ Wayne Cribb, Lou Martino made a CD for the DJ to play for the dancers. Thanks to the DJ for playing for the Dance Team.
Following the demonstration the members of the USS Bang were invited to come to the floor and learn the Shag Dance. They were very enthusiastic and enjoyed the basic steps of the Shag Dance.
After the event, the Dance Team was invited to stay and enjoy a delicious Prime Rib dinner. Thank you USS Bang for feeding the Dance Team.
A big thank you goes out to Jennifer Wilson for the invite to this event and the DJ Wayne Cribb for playing the music for this event.
Special thanks to the members of the ODSC Dance Team for dancing:
Ted Sobol, Callie White, Donna and Burnie Williams, Bill and Diane Millman Barbara Hopper, Mike and Bonnie Bejzak, John and Lori Setzer, Linda Campbell and Lou Martino
Photos by Lou Martino