20200524 Golf Cart Fundraiser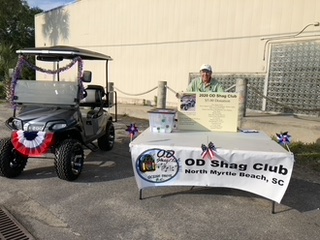 Message from Your Golf Cart Fundraiser Committee
Monica & Jim Palmieri
Lori & John Setzer

As you know, all of our selling events this year have been cancelled. We lost St. Patricks' Day, SOS, SOS Parade, and MayFest, not to mention some smaller events. This Covid Virus really has a way of trickling down, and we saw it firsthand. Last year at this time, we were completely sold out. With restrictions loosening up, we thought we may have a selling opportunity at Graham's Golf Cart store on Memorial Day weekend. This is like 'fishing where the fish are' because we know everyone that walks by, loves to drive golf carts around town.

A big shout out to Mike Graham for allowing us to set up our booth in front of his store on Friday and Saturday. Also thank you to Rip-Tide Radio for giving us on-air mentions both days, they did a great job. As always, thank you Monica Powell for the terrific communication. Thank you to our members, Maxie Brien, Dolly McDermott, Kay and Mark Hughes and our new member Tim Pittman, who volunteered their time to sell tickets. Thank you to all our club members who stopped by to purchase tickets.

Okay, so you want to know the results? Our two-day event ranked 2nd to our largest event ever (St. Patrick's Day Festival last year). WE SOLD ALMOST 600 TICKETS!
All that being said, we are still far behind our sales goal.

We have 1,700 tickets left to sell, so we're always looking for selling opportunities. If anyone would like a block of 10 or more tickets to sell to friends and neighbors, please let Monica Palmieri know by clicking on this link monicapalmieri@me.com. While we did not have the large crowds like the above events, our hit-rate made a hot couple of days well worth our time.
Once again, a great big 'THANK YOU' to all who came out.