Lou Martino – Al Cain Award 2016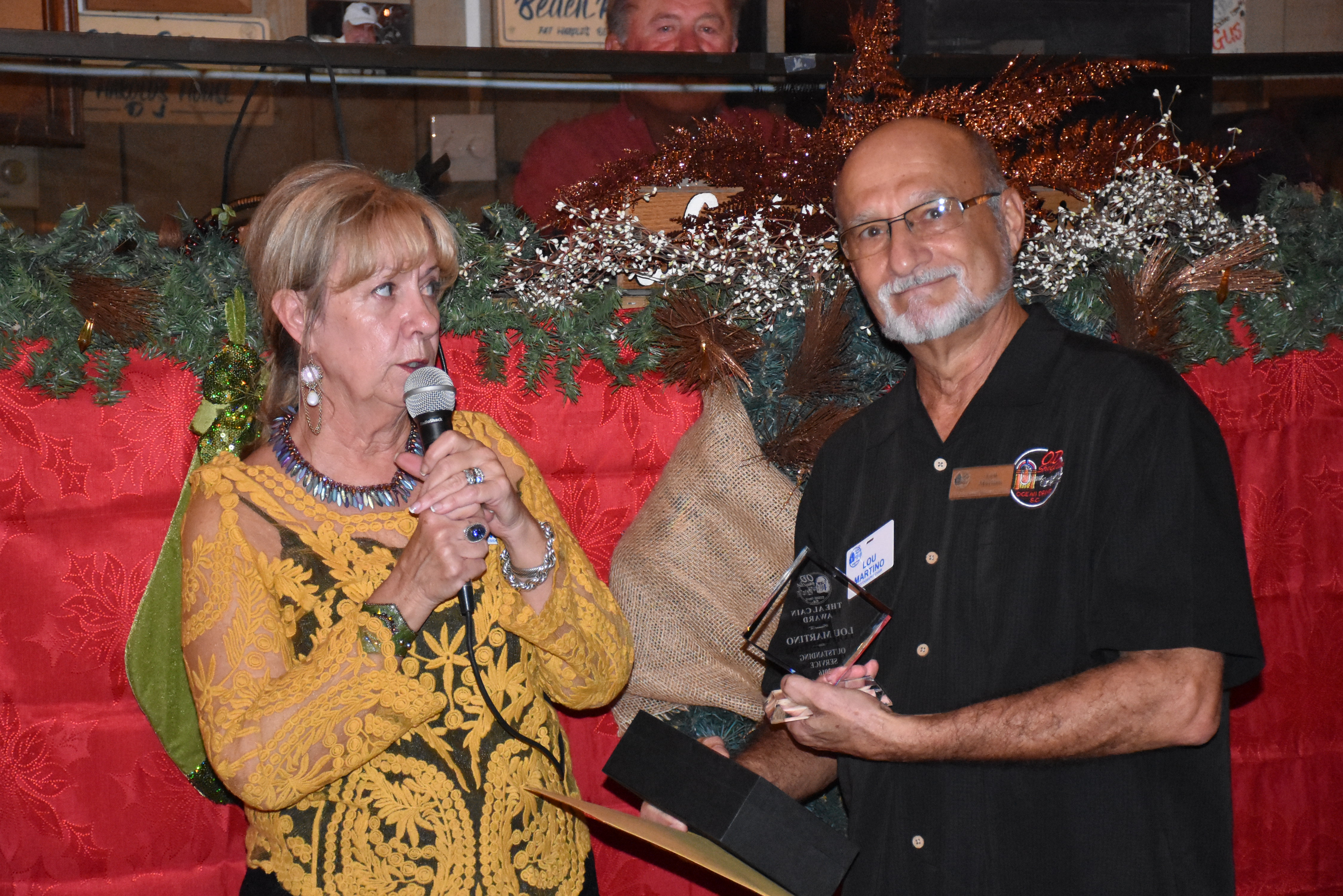 Al Cain Award Recipient 2016
by
Monica Powell
Lou Martino
Lou Martino is our 2016 Al Cain Award Winner.  Lou has:
Been a member of the ODSC for 26 years.
He has been on the Board and has served as Chairperson for several committees.
He organized the Dance Demo Team.
Club photography 1990 – 1996 and 2016
Membership Chair – 1996 – 1999
Worked on almost every committee that we have.
He built shelves for the storage unit.
He is always talking to new people and signing them up to become new ODSC members.
He is also our webmaster. For those of you that do not know, being Webmaster takes an enormous amount of time and Lou does it gladly!
What a wonderful example of someone who goes above and beyond for the ODSC!
A response from Lou Martino
On November 19, 2016, I was very honored and humbled to receive the most prestigious award that the OD Shag Club has to offer its membership.
This Award is very precious to me in many ways. Yes I work for and put in many hours for the OD Shag Club, but I enjoy what I do and what is asked of me.
I just want to say that there are many members of our club that are deserving of this award, because there are many members that are always working behind the scenes to make our club work best for its members.
Yes, I have been a member of the OD Shag Club ever since I moved to the beach back in 1991. I have seen many changes during this time. The members are the same their faces just change. It's like old saying "Shaggers never die they just change their soles".
I have been fortune enough to hang with the best. The old group back at Sha Booms in Fayetteville, NC: Eddie Monseur, John Stephens and Al Cain. I took my very first lessons from our own Jeppe McDowell in 1989.
I love to dance. It has been a great ride for me. Then when I came to the beach, it was a whole new ball game. The first time that John Stephens asked me to come to my first SOS; I was hooked. This is where I wanted to be, so I moved to the beach.
I saw dancing like I have never seen before. All the pros! I was in awe. I couldn't begin to name all of the dancers, but everyone knows Charlie and Jackie Womble. I wanted to be like them when I grew up (and so didn't 1000's of other dancers).
Yes like most people who moved to the beach, I took lessons. There was Jeppy McDowell, Judy Duke, and Charlie and Jackie. I had a hunger to do better.
I only mention this history because the Al Cain Award means all this to me. It's not just the work and the hours one puts forth to make our Club great. It's promoting and preserving the Shag Dance. It's meeting and becoming friends with so many people that like to do the same things together.
So I would like to thank the OD Shag Club, it's Officers and Board Members, and the members that felt that I was deserving of this Award.
A special thank you to Al Cain (God rest his soul) for the memories and recognizing those members who are honored to receive this award.
Thank you from the bottom of my heart,
Lou Martino