20190216 Oyster Roast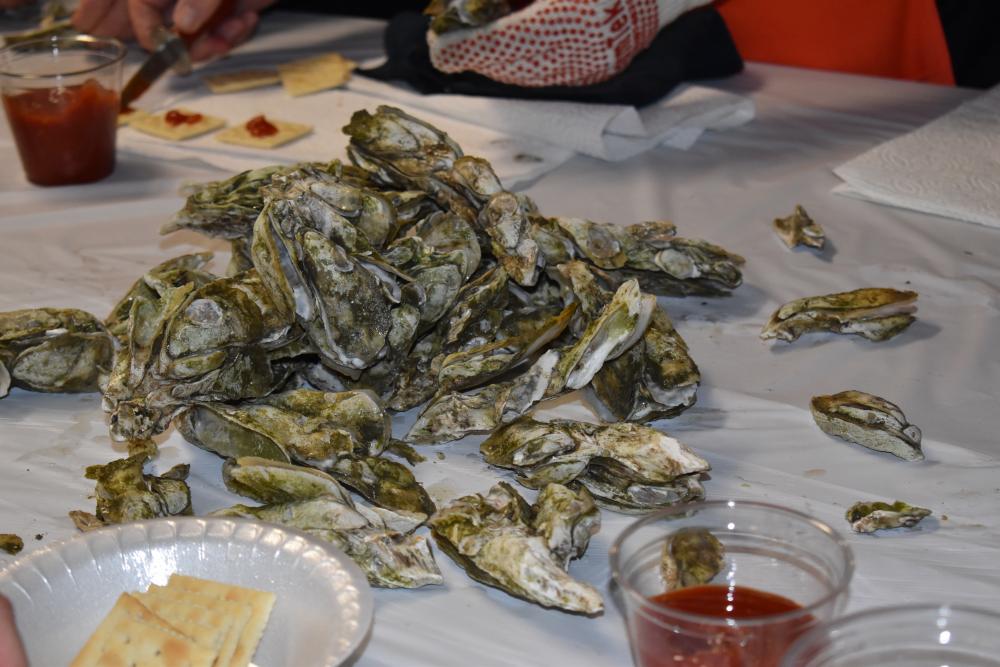 Oyster Roast
by
Kathy McCoy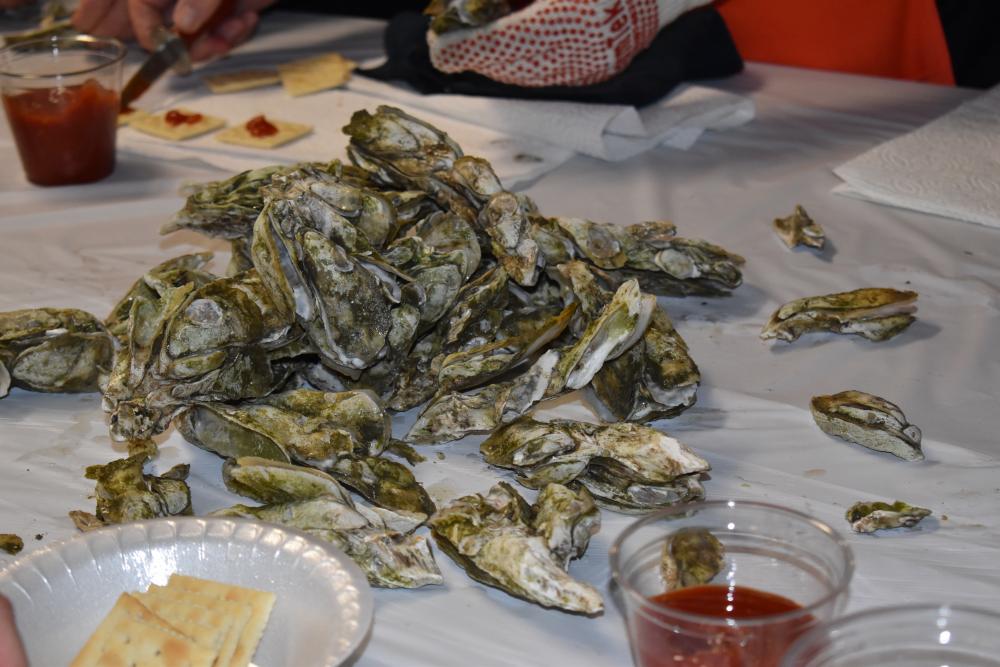 Click Here to see photos of this event
What a great Oyster Roast, Thanks to everybody who helped make it successful. We had 241 members and 5 quests to attend.
We started Friday night prepping the food at Donnie and Wendy's house and it began with CHICKEN, cutting up the sausage, watching Donnie measuring and weighing the food, yes he did…for their world-famous Chicken Bog (yes, for those who just haven't acquired the love or taste for oysters). And for those of us who love both. Thank you, Faye Chowning, Dolly McDermott and Paulette Miller for serving this and making sure that each table had their crackers and cocktail sauce.
I am sure you couldn't miss Glen Strange directing where the oyster carriers needed to go and I don't believe anyone was without oysters for more than just a little bit as Donnie and his great "crew" kept 'm coming!
That great team consisted of: Tim and Cassy Shumway, Cindy Day, Susan and Kevin Harrell, Bill Bacon, Terry Holmes, Jim Robinson, Bob Sanders, Jim Queen, Steve Queen, Bob Miller, Terry and Kathy McCoy, Ronnie Rogers and Glen Strange. Sorry if we missed anyone, it was such a great team effort from early Saturday morning till cleanup Saturday night.
While everyone ate either oysters or chicken bog cooked by Ronnie Rogers and Archie Amerson., Bill Anderson kept the great tunes spinning. Billy Powell and Rich Young did a great job selling 50/50 tickets.
At the end of the night there was lots of help from many of the members to put the OD Arcade back to its original state.
2019 World Famous OD Shag Club Oyster Roast will go down as a wonderful success and we will look forward to it again next year. Thank you again to EVERYONE FOR A GREAT JOB WELL DONE!! It was a record clean up on the inside, in 20 minutes once food was over, Arcade was back up and running like we were never there!
Thanks again for all the hard work!!
Phots by Lou Martino