20181115 Al Cain Award – Wendy Schultz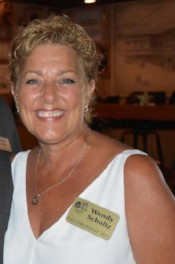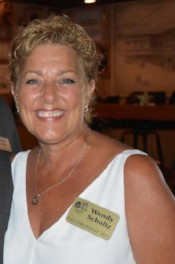 The most prestigious award given by the ODSC is the Al Cain Award and the winner for 2018 is Wendy Schultz!
Wendy has been a member of the ODSC for 17 years. She has served as Vice President and President. She is currently on the ODSC Foundation Board. Wendy was Parade Chairman 7 years, served as Hospitality Chair in 2007 and was the Charities Committee Chair in 2012. If that was not enough, Wendy has been the Oyster Roast Co-Chair for the last 3 years and has been the Food Committee Co-Chair for the last 4 years. Wendy has also been the Chairman or Co-Chair for the Charity Fun Run for the last 3 years.
As the Parade Chair or Food Committee Chairperson, it means that you do a lot of the work behind the scenes. Many trips to hardware store for the Parades and hundreds of trips to Costco and grocery stores as Food Committee Chairperson.
Wendy has put thousands of hours of work in helping support the ODSC and does it all with a smile! What a worthy recipient of this award!