20170427 SOS Club Crawl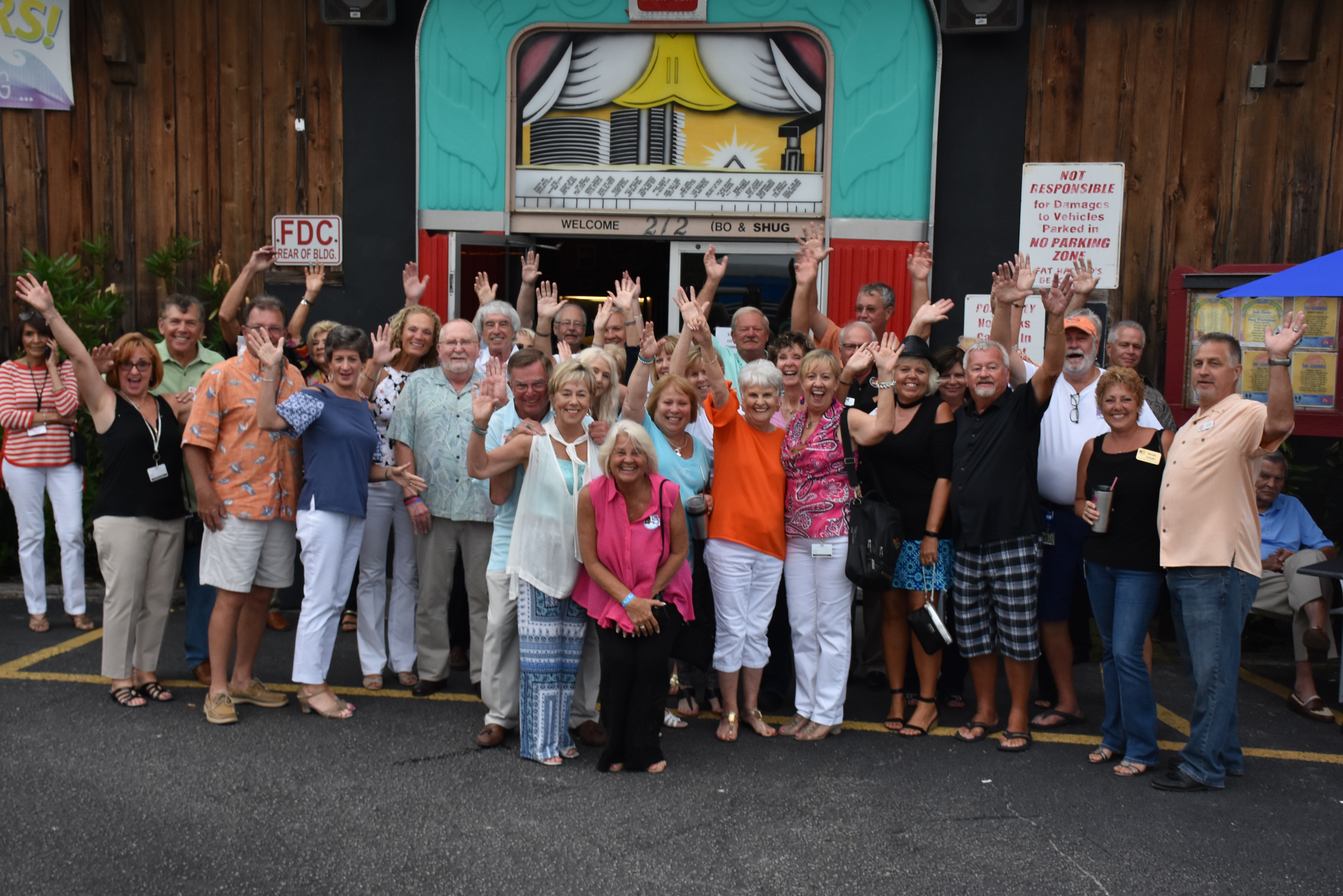 Club Crawl
by
Lou Martino
Click Here to see Photos of this event
This year the OD Shag Club joined together, socialized and simply had a great time at our bi-annual SOS Club Crawl during 2017 Spring Safari SOS. We began our journey May 25th as we all met at the Pirate's Cove at 6Pm. There were around 20 members that attended. As we trickled in the President of the OD Shag Club Terry McCoy gave each member a "yellow" ticket for their first drink. There was no line. Since it was early in the evening not many Shaggers were out and about, so we had the whole place to ourselves. This gave those who wanted to dance a chance to show their stuff. Bob and Helon Page introduced the River Waltz and many of the members joined in.
There were probably 10 people left as the group emptied the Pirate's Cove. We all met at the front door and then it was off to Duck's. It was a sight to see as 20 members of the OD Shag Club walked (we weren't crawling yet) up main street. There were those watching wondering what was going on. We did get the attention from by-standers.
As we entered Duck's heads turned. We walked through to the back area and had a social gathering. We took up the whole area. It was nice to be able to just sit and talk. Many of the Club members did dance. As 8PM approached, we all got up and left. We made a big impact at both clubs.
The second crawl began at the OD Arcade May 27th at 6PM. WOW! We grew since the first crawl. There were around 30 members of the Club that were in attendance. There was a DJ playing great tunes and again there was room to dance. Many of the members enjoyed the fine cuisine that the Arcade has to offer.
Then we were off to Fat Harold's. The club was packed. As we made our way through the crowd we lost our momentum as we just blended in with everyone else. We knew who we were, however, no one else knew that we were even there. It was suggested that next crawl that we wear bright neon T-shirts to really let others know that we are here and we are gone.
Over all the Club Crawl was a success. We are looking forward to 2017 Fall Migration SOS. And those who did not participate you just don't know what you missed. So, save the date for the Fall and join us. The crawl will do you good.