20170428 Federation of Women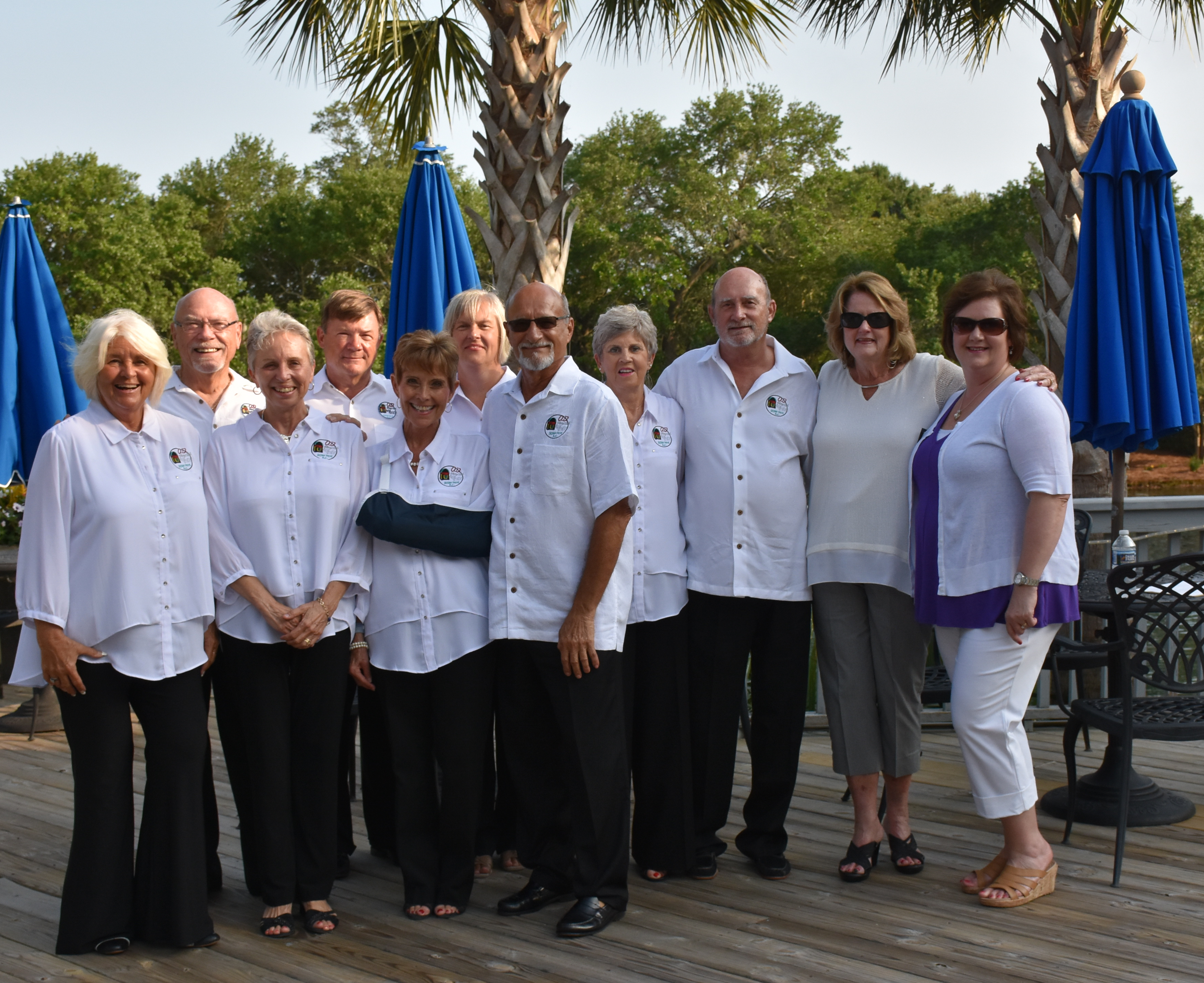 SC General Federation of Women's Club
by
Lou Martino
Click Here to see Photos of this event
The OD Shag Club Dance Team was invited to the SC General Federation of Woman's Club State Convention April 27, 2017 at 6PM, held at the Litchfield Beach and Golf Resort, Pawleys Island, SC. We were greeted by our own Dolly McDermott who introduced us to Stephanie Williams President, North Myrtle Beach Woman's Club and Janet Prince, State President, South Carolina 2016-2018 on the Webster's Restaurant outside deck for Happy Hour. There was a nice humid breeze and a perfect night for dancing.
Linda Campbell the MC began with an introduction as to the Shag Dance. She then introduced the Dance Team. Starting off with Donna and Burnie Williams dancing to Stand Up and Be Strong. You could tell that the coward was beginning to enjoy themselves. After the first dance Linda asked the women how many of them already knew how to Shag.
Many of them raised their hands including Mrs. Burgess, there most senior member, who had been shagging for over 60 years.
The second to demonstrate was John and Lori Setzer who danced to Everyday Love. The crowd began to clap along and seemed to watch every step.
Our third couple was Bob and Helon Page who danced to Before the Night is Though. They are from Sherrills Ford, NC and have been on the dance team for a year and travel here because they love the dance.
The 4th and final couple to dance was Lou Martino and Barbara Hopper (because Lou's partner Linda Campbell had accident and was unable to dance) filled in beautifully and danced to Can't Stop the Feeling. Thank you, Barbara, for rearranging you schedule to fill in at the last minute.
Lou Martino asked the women to divide on one side and the men to be on the other side. However, there were no men except for the four on the dance team. Nonetheless, instructions began and the woman were able to pick up the shag basic within a few minutes.
We then asked the members of the dance team to select a member of the Women's Club to dance. They were willing to participate and many of them even danced with each other. Although the women were supposed to go to dinner at 7PM most of them stayed to dance.
After the instructions, we decided to teach a line dance to the music Run for Cover. It was a big hit. We all had a wonderful time.
Thank you to the Dance Team mentioned above that showed up for this event knowing that several of you have to work and arranged your schedules to accommodate the Team.